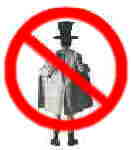 Why are these corporations trying to murder magicians?
The latest on the Fox magical exposures
On May 15, 2002, Fox aired another in its series of magical exposures. Shortly afterwards, I got an e-mail that was written by Walter Blaney, president emeritus of the World Alliance of Magicians, an organization that did its best to fight exposures, but is now folding. Walter supplied a list of corporate sponsors -- at least those who were on the Houston station.

Here are some of the sponsors:

CIRCUIT CITY
PIZZA HUT
COLUMBIA PICTURES
MIRACLE-GRO
FOX-TV NETWORK
DEGREE GEL
TACO BELL
HOME DEPOT
MOTEL 6
DISNEY VIDEO
ROUND-UP WEED KILLER
NISSAN TRUCKS
JACK IN THE BOX
CINGULAR WIRELESS
HONDA ACCORD LX
LOWES HARDWARE
GREYHOUND BUS
CHURCH'S FRIED CHICKEN
MC DONALD'S HAMBURGERS
ARBOR MIST WINERY
PLAY STATION 2

For years, the World Alliance of Magicians tried to combat exposure by sending well-reasoned letters to the sponsors of the Fox shows. Obviously, this is not enough.

Friends, these people are trying to kill us. They may not realize it, but by revealing the secrets, they are making it difficult, if not impossible, for us to earn a livelihood.

Magic is an ancient art form. It has been used to entertain and educate people for more than just a few millenia. Yet, Fox wants to destroy it, and by doing so, destroy those who are its proponents and practitioners.

In short, they want to starve us out.
It is time to hit these people in their bank accounts!
WAM never asked for anyone to boycott any of the people who advertised on the exposure series.

Now, I think it is time to flex our muscles.

Hit them in their pocketbooks, where it hurts.

They are trying to starve us -- starve them.
Here is my suggestion
Boycott them.

Start with the people you trade with the most. In some cases, this will be Home Depot and Lowe's. If you have a Home Depot or Lowe's credit card, cut it in half, and send it back to them with a letter that says that until they realize what damage they have done by supporting this series, you will not trade with them. There is not a single item available at either of these two merchants that cannot be bought somewhere else.

If you have an estimate of how much you have spent with them, send that along.

Be polite, but firm, and explain to them what they have done to you.

Be sure to mention that there are more than 30,000 magicians in the United States, and that they all have families, friends and fans.

When they call to hire you for a party, politely decline.

The next time you feel the need to stop in at a fast food place, remember how thoughtful MacDonald's, Taco Bell, KFC and Jack in the Box have been to us.

Tell Tom Bodett (Motel 6) and the rest of the Accor Hotel Corporation where they can stick that light they want to keep on for you.

Do not allow Fox to interview you, but let all the other local stations know what you are doing.

Most of all, tell your friends that these corporations are trying to kill us.

This worked in the 1960's for the minoritites that wanted segregation stopped, and it can work for us!
SPREAD THE WORD!!!!
Ways to make these corporations reconsider what they are doing.
One of my friends suggested that if you have a group of children at your disposal, such as a day camp or even a summer school class, have them write letters to the various sponsors letting them know how bad they are for trying to put magicians out of business.
The fine print -- this is strictly a solo effort. If some of the clubs and organizations wish to pick up on it, they certainly may. I ask for no contributions, just your help. If you think this is extreme or over the top, nothing else we have tried seems to work.

Note that Disney Corporation is one of the offenders.

"Magic Kingdom," my wrinkled donkey!
For more information, or if you have an interesting way of hassling one of these corporations, send e-mail to bill@billpalmer.com
©2002 Bill Palmer. All rights reserved. For permission to republish contact Bill Palmer at the above e-mail address.